WWW Wednesday is a meme hosted by Taking On A World of Words where three question are asked:
What are you currently reading?
We all know that growing up is hard to do, and sometimes the only thing that makes it better are the reassuring words of someone who has walked that bumpy road just a few steps ahead of you and somehow ended up as a fully-functioning adult. Carrie Hope Fletcher is that person.* Thanks to her phenomenally popular YouTube videos, Carrie has become an 'honorary big sister' to hundreds of thousands of young people who turn to her for advice, friendship and, most of all, the knowledge that things will get better.

Carrie has created a safe and positive space for young people to connect and share their hopes and concerns online, and now she will share her most personal thoughts and experiences in her first book, ALL I KNOW NOW. Part memoir, part advice guide, it will include Carrie's thoughts on some of the topics she's asked about most regularly: bullying, body image, relationships and perhaps the scariest question of all: what does the future hold for me? With warmth, wit and a sprinkling of hard-won wisdom, Carrie will provide the essential tools for growing up gracefully . . . most of the time.

*Although she did recently post a video about how to pee in a onesie. So the definition of 'adult' is a bit flexible here . . .
The main book I am currently reading is All I Know Now by Carrie Hope Fletcher. I started this ages ago but then put it down for some reason or another. This time I actually want to finish it.
I am also re-reading Throne of Glass by Sarah J. Maas, and the original, self-published ebook version of The Martian by Andy Weir, meaning that there are going to be a few different things about this version.
What did you recently finish?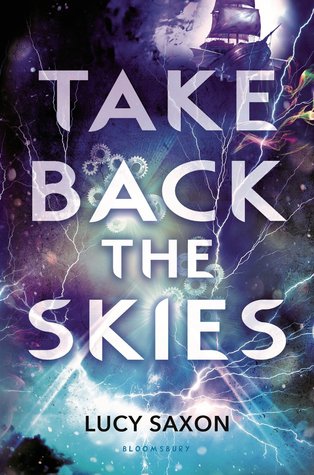 Catherine Hunter is the daughter of a senior government official on the island of Anglya. She's one of the privileged – she has luxurious clothes, plenty to eat, and is protected from the Collections which have ravaged families throughout the land. But Catherine longs to escape the confines of her life, before her dad can marry her off to a government brat and trap her forever.

So Catherine becomes Cat, pretends to be a kid escaping the Collections, and stows away on the skyship Stormdancer. As they leave Anglya behind and brave the storms that fill the skies around the islands of Tellus, Cat's world becomes more turbulent than she could ever have imagined, and dangerous secrets unravel her old life once and for all . . .
I recently finished Take Back the Skies by Lucy Saxon. It was a pretty good book, even though the ending was heartbreaking. Talk about a book hangover!
What do you think you'll read next?
Many often think that they know the character as well as motives behind Brooklyn's own 23rd precinct. Well, the fact of the matter is that they don't as detectives find that scratching your head are the keys to figuring out exactly where it could have all went wrong. Moreover, this just so happens to be the dilemma of Parkside avenue's finest as they now find themselves entangled within a twisted end at every single corner. However, what they haven't realized is that someone amongst their own ranks has been leading them astray and is the cause of them backtracking as a result…
I'm going to take a stab in the dark and say Frankly TWISTED: The Lost Files by Kevin Eleven. I have had it sitting on my shelf for a while and I would like to get it off my TBR shelf to join my other crime fiction books.
If you have a WWW Wednesday post of your own leave the link for it in the comments so I can check it out.
Happy reading!