Top Ten Tuesday is hosted by The Broke and the Bookish once a week, and this week's list is my most anticipated releases for the rest of 2015.
I'm not going to lie, there won't be ten because I don't keep up-to-date with book releases, and a lot of those I do know about have either already happened, or I'm not planning to read it. So here are the ones I am actually excited for.
Number one: Queen of Shadows by Sarah J. Maas
Release date: September 1st, 2015
'Everyone Celaena Sardothien loves has been taken from her. Now she returns to the empire – to confront the shadows of her past … The fourth breathtaking instalment in the New York Timesbestselling Throne of Glass series.
Bloodthirsty for revenge on the two men responsible for destroying her life, and desperate to find out if the prince and his captain are safe, Celaena returns to Rifthold, the seat of so much evil. She has accepted her identity as Aelin Galathynius, Queen of Terrasen. But before she can reclaim her throne, there are dark truths to learn and debts to be paid. Aelin must stay hidden beneath her assassin's hood and draw on her mortal strength as Celaena to prevent the King of Adarlan from tearing her world apart. Only then can she fight for her people.
Readers will be held rapt as Celaena's story builds to an agonising crescendo, packed with heart-pounding action and swoon-worthy romance.'
Number two: The Rest of Us Just Live Here by Patrick Ness
Release date: August 27th, 2015
'Award-winning writer Patrick Ness's bold and irreverent novel powerfully asks what if you weren't the Chosen One? The one who's supposed to fight the zombies, or the soul-eating ghosts, or whatever this new thing is, with the blue lights and the death? What if you were like Mikey? Who just wants to graduate and go to prom and maybe finally work up the courage to ask Henna out before someone goes and blows up the high school. Again. Because sometimes there are problems bigger than this week's end of the world and sometimes you just have to find the extraordinary in your ordinary life. Even if your best friend might just be the God of mountain lions…'
Number three: Everything, Everything by Nicola Yoon
Release date: September 1st, 2015
'Madeline Whittier is allergic to the outside world. So allergic, in fact, that she has never left the house in all of her seventeen years. But when Olly moves in next door, and wants to talk to Maddie, tiny holes start to appear in the protective bubble her mother has built around her. Olly writes his IM address on a piece of paper, shows it at her window, and suddenly, a door opens. But does Maddie dare to step outside her comfort zone?
Everything, Everything is about the thrill and heartbreak that happens when we break out of our shell to do crazy, sometimes death-defying things for love.'
Number four: Illuminae by Amie Kaufman and Jay Kristoff
Release date: October 20th, 2015
'This morning, Kady thought breaking up with Ezra was the hardest thing she'd have to do. This afternoon, her planet was invaded.
The year is 2575, and two rival mega-corporations are at war  over a planet that's little more than an ice-covered speck  at the edge of the universe. Too bad nobody thought to  warn the people living on it. With enemy fire raining down  on them, Kady and Ezra – who are barely even talking to each other – are forced to fight their way onto one of the  evacuating fleet, with an enemy warship in hot pursuit. But  their problems are just getting started. A deadly plague has  broken out and is mutating, with terrifying results; the fleet's  AI, which should be protecting them, may actually be their  enemy; and nobody in charge will say what's really going on.
As Kady hacks into a tangled web of data to find the truth,  it's clear only one person can help her bring it all to light: the  ex-boyfriend she swore she'd never speak to again!'
Number five: Tangled Webs by Lee Bross
Release date: June 23rd, 2015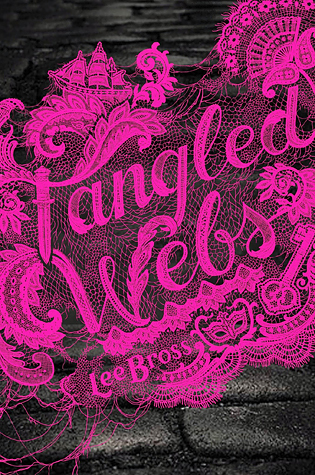 'London, 1725. Everybody has a secret. Lady A will keep yours—for a price. This sumptuous, scandalous YA novel is wickedly addictive.
Lady A is the most notorious blackmailer in the city. With just a mask and a gown to disguise her, she sweeps into lavish balls and exclusive events collecting the most valuable currency in 1725 London—secrets.
But leading a double life isn't easy. By day Lady A is just a sixteen-year-old girl named Arista who lives in fear of her abusive master, Bones, and passes herself off as a boy to move safely through the squalor of London's slums. When Bones attempts to dispose of his pawn forever, Arista is rescued by the last person she expects: Jonathan Wild, the infamous Thief Taker General who moves seamlessly between the city's criminal underworld and its most elite upper circles. Arista partners with Wild on her own terms in the hopes of saving enough money to buy passage out of London.
Everything changes when she meets Graeden Sinclair, the son of a wealthy merchant. Grae has traveled the world, has seen the exotic lands Arista has longed to escape to her whole life, and he loves Arista for who she is—not for what she can do for him. Being with Grae gives something Arista something precious that she swore off long ago: hope. He has promised to help Arista escape the life of crime that has claimed her since she was a child. But can you ever truly escape the past?
Number six: The Girl in the Spider's Web by David Lagercrantz
Release date: September 1st, 2014
'This fall, Lisbeth Salander and Mikael Blomkvist return in the highly anticipated follow-up to Stieg Larsson's THE GIRL WHO KICKED THE HORNET'S NEST
In this adrenaline-charged thriller, genius-hacker Lisbeth Salander and journalist Mikael Blomkvist face a dangerous new threat and must again join forces.
Late one night, Blomkvist receives a phone call from a trusted source claiming to have information vital to the United States. The source has been in contact with a young female super hacker—a hacker resembling someone Blomkvist knows all too well. The implications are staggering.
Blomkvist, in desperate need of a scoop for Millennium, turns to Lisbeth for help. She, as usual, has her own agenda. In The Girl in the Spider's Web, the duo who thrilled 80 million readers in The Girl with the Dragon Tattoo, The Girl Who Played with Fire, and The Girl Who Kicked the Hornet's Nest meet again in an extraordinary and uniquely of-the-moment thriller.'
I think I forgot a couple, but I obviously can't remember them right now.
Are there any books you're looking forward to being released this year? Have you got a Top Ten Tuesday post of your own? If so leave the link in the comments so I can check it out.
Happy Tuesday!