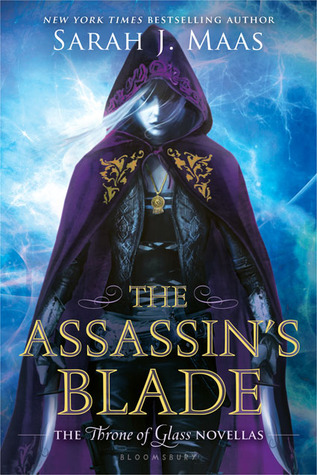 The Assassin's Blade by Sarah J. Maas

Publication Date: March 4th, 2014
Publisher: Bloomsbury Children
Genre(s): YA, Fantasy
Series Status: Throne of Glass #0.1 – #0.5
Pages: 448
Format and Source: Paperback, Owned
Rating: 4 out of 5
Synopsis from Goodreads:

Contains all five novellas.

Celaena Sardothien is Adarlan's most feared assassin. As part of the Assassin's Guild, her allegiance is to her master, Arobynn Hamel, yet Celaena listens to no one and trusts only her fellow killer-for-hire, Sam. In these action-packed novellas – together in one edition for the first time – Celaena embarks on five daring missions. They take her from remote islands to hostile deserts, where she fights to liberate slaves and seeks to avenge the tyrannous. But she is acting against Arobynn's orders and could suffer an unimaginable punishment for such treachery. Will Celaena ever be truly free? Explore the dark underworld of this kick-ass heroine to find out.
---
The Assassin's Blade by Sarah J. Maas is several prequel novellas put together, which works well and makes it incredibly interesting. In the Throne of Glass series there are still gaps in Celaena's past where the reader is left wanting to learn more. This book of prequels fills in these gaps in a very unique way.
The obvious thing us readers of the Throne of Glass series want to learn more about is what happened to the man Celaena loved before the series began, and this is thoroughly explained in this book. But, instead of directly focusing on him, we are taken through a series of stories, that are all fun in their own right, yet they are even better together as they are intertwined, creating a great back drop for the series. This also gave me the opportunity to realised other tidbits along the way. For example we learn where Celaena learnt how to properly kill a witch, a fact that was just touched upon in the actual series. It's clever little things like that that make me appreciate how well these stories were written.
Another major thing I learnt from this book – which is definitely useful to know before reading the most recent book in the Throne of Glass series, Queen of Shadows – is what sort of person Celaena's mentor, Arobyn Hamel, is. Him being so manipulative adds knew dimensions to Celaena's character which I never really noticed before. Arobyn reminded me of Jaxon Hall from The Bone Season by Samantha Shannon, whose own selfishness and greed also made his role as mentor more lethal for the protagonist.
One thing with this prequel is that you definitely need to read the series first. I tried to read this first and I couldn't finish it. The fact that you are learning about the past of a character you already love makes this interesting. Without it it isn't as good, with the only saving grace being the awesome action scenes.
For fans of the Throne of Glass series I do recommend you read these prequels. While I still preferred the series, I did enjoy this book and I do recommend it.