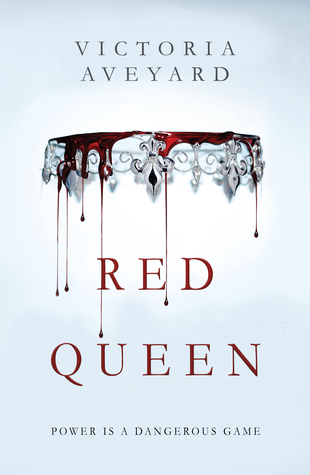 Publication Date: February 12th 2015
Publisher: Orion
Genre(s): YA, Fantasy
Series Status: Red Queen #1
Pages: 383
Format and Source: Paperback, Owned
Rating: 4 out of 5
Synopsis from Goodreads:

This is a world divided by blood – red or silver.

The Reds are commoners, ruled by a Silver elite in possession of god-like superpowers. And to Mare Barrow, a seventeen-year-old Red girl from the poverty-stricken Stilts, it seems like nothing will ever change.

That is, until she finds herself working in the Silver Palace. Here, surrounded by the people she hates the most, Mare discovers that, despite her red blood, she possesses a deadly power of her own. One that threatens to destroy the balance of power.

Fearful of Mare's potential, the Silvers hide her in plain view, declaring her a long-lost Silver princess, now engaged to a Silver prince. Despite knowing that one misstep would mean her death, Mare works silently to help the Red Guard, a militant resistance group, and bring down the Silver regime.

But this is a world of betrayal and lies, and Mare has entered a dangerous dance – Reds against Silvers, prince against prince, and Mare against her own heart…
This book is incredibly similar to The Hunger Games by Suzanne Collins in many aspects, one of which is, while I haven't got any major issues with it, it didn't exactly 'wow' me.
The protagonist, Mare, was very well written, and, unlike quite a few people who read this book, I quite liked her. I respected the fact that, while she didn't agree with the regime the Silvers had set for the Reds, she just wanted a quiet, happy, and safe life for herself, her friends, and her family – not everyone wants to be a rebel. You can already see the parallels between Mare and Katniss, can't you?
When Mare was unwillingly dragged into the Silver world, she just wanted to survive at first for the sake of her family. But, like Katniss, she decided to use her position to join a rebellion against the ruling elitists. It's uncanny how similar Mare and Katniss are!
This can also be seen in the eloquent and enthralling world-building. Aveyard created a dark world, with a strict hierarchy and death around every corner. There were jobs that pay little to nothing, teens dragged away to fight in a war they want nothing to do with, and Silvers fight in an arena to show dominance over the Red race. So their's very separate classes of people, a lot of death, fighting teens, and arenas. Does this sound familiar to you?
Wait! There's more! Like in The Hunger Games, there's a love triangle! Mare is stuck between love due to necessity or love due to attraction. Luckily, for someone who is picky when it comes to romance, I actually liked this love triangle as it was pulled off well, and it was sort of necessary for the plot.
An aspect that was different from The Hunger Games – well, sort of different at least – was the shocking plot twist. I admittedly did see it coming, but I didn't know the size of the bombshell it was going to drop. It definitely added a good element to carry on from into the next book.
Overall, while it was incredibly similar to The Hunger Games, I can look past that due to it having well-written characters, great and thorough world-building, decent romance, and awesome actions scenes. These factors made this book an enjoyable read which I do recommend. I will, hopefully, continue this series.