Sunday Comforts is a weekly feature on my blog where I answer questions about a book I already love and want to seek comfort in re-reading them. Here are the questions:
What do you feel like re-reading, or have re-read this week? 
Poison Study by Maria V. Snyder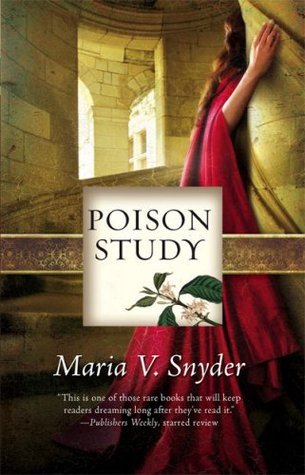 Choose: A quick death…Or slow poison…

About to be executed for murder, Yelena is offered an extraordinary reprieve. She'll eat the best meals, have rooms in the palace—and risk assassination by anyone trying to kill the Commander of Ixia.

And so Yelena chooses to become a food taster. But the chief of security, leaving nothing to chance, deliberately feeds her Butterfly's Dust—and only by appearing for her daily antidote will she delay an agonizing death from the poison.

As Yelena tries to escape her new dilemma, disasters keep mounting. Rebels plot to seize Ixia and Yelena develops magical powers she can't control. Her life is threatened again and choices must be made. But this time the outcomes aren't so clear…
Is there any reason you want to re-read this/these book(s)?
I blame the BookTuber abookutopia for this because she recently put up a video of all the books she's taking to college, and she mentioned this book. I have read Poison Study so many times, and I completely love it, and she just reminded me this, so now I really want to re-read it.
What's your favourite thing about this/these book(s)?
I can't narrow it down to one specific thing because I love the world-building, the magic, the plot, and even the romance in this book (and this is coming from someone who is very picky about romance in books).
I recommend this book to those who like fantasy and action and awesome heroines. I won't be re-reading this book unfortunately because firstly, I am in a reading slump book wise, and secondly, next week I am busy packing up all my stuff and heading over to France, so I'll be saying goodbye to people and sorting everything out.
Is there a book you feel like re-reading? Tell me in the comments if you do, because, as always, I'm curious.
Happy reading!