I am currently reading The Emancipation of A Buried Man by Eddy Gilmore, but I just realised that I have no clue what to read when I finish it. So now I turn to you to decide for me. Here are the twelve books and their descriptions I have ready to read next. Comment below your favourite one and I will read and review the most popular one next.
The Girl on the Train by Paula Hawkins
"Gripping, enthralling – a top-notch thriller and a compulsive read". (S J Watson, bestselling author of Before I Go To Sleep). Rachel catches the same commuter train every morning. She knows it will wait at the same signal each time, overlooking a row of back gardens. She's even started to feel like she knows the people who live in one of the houses. 'Jess and Jason', she calls them. Their life – as she sees it – is perfect. If only Rachel could be that happy. And then she sees something shocking. It's only a minute until the train moves on, but it's enough. Now everything's changed. Now Rachel has a chance to become a part of the lives she's only watched from afar. Now they'll see; she's much more than just the girl on the train.
Every Day by David Levithan
In his New York Times bestselling novel, David Levithan introduces readers to what Entertainment Weekly calls a "wise, wildly unique" love story about A, a teen who wakes up every morning in a different body, living a different life. Every day a different body. Every day a different life. Every day in love with the same girl. There's never any warning about where it will be or who it will be. A has made peace with that, even established guidelines by which to live: Never get too attached. Avoid being noticed. Do not interfere. It's all fine until the morning that A wakes up in the body of Justin and meets Justin's girlfriend, Rhiannon. From that moment, the rules by which A has been living no longer apply. Because finally A has found someone he wants to be with—day in, day out, day after day. With his new novel, David Levithan, bestselling co-author of Will Grayson, Will Grayson, and Nick and Norah's Infinite Playlist, has pushed himself to new creative heights. He has written a captivating story that will fascinate readers as they begin to comprehend the complexities of life and love in A's world, as A and Rhiannon seek to discover if you can truly love someone who is destined to change every day.
The Perks of being a Wallflower by Stephen Chbosky
Charlie is a freshman. And while he's not the biggest geek in the school, he is by no means popular. Shy, introspective, intelligent beyond his years yet socially awkward, he is a wallflower, caught between trying to live his life and trying to run from it. Charlie is attempting to navigate his way through uncharted territory: the world of first dates and mixed tapes, family dramas and new friends; the world of sex, drugs, and The Rocky Horror Picture Show, when all one requires is that perfect song on that perfect drive to feel infinite. But Charlie can't stay on the sideline forever. Standing on the fringes of life offers a unique perspective. But there comes a time to see what it looks like from the dance floor. The Perks of Being a Wallflower is a deeply affecting coming-of-age story that will spirit you back to those wild and poignant roller-coaster days known as growing up.
The Night Circus by Erin Morgenstern 
The circus arrives without warning. No announcements precede it. It is simply there, when yesterday it was not. The black sign, painted in white letters that hangs upon the gates, reads: Opens at Nightfall. Closes at Dawn. As the sun disappears beyond the horizon, all over the tents small lights begin to flicker, as though the entirety of the circus is covered in particularly bright fireflies. When the tents are all aglow, sparkling against the night sky, the sign appears. Le Cirque des Reves. The Circus of Dreams. Now the circus is open. Now you may enter.
One Summer by David Baldacci
When thirty-four-year-old ex-war veteran Jack Armstrong is told he has only weeks to live, his first concern is for his beloved wife Lizzie, and their children: baby Jackie, twelve-year-old would-be actor Cory and rebellious teenage daughter Mikki. It seems so cruel that an apparently fatal illness should claim him, a survivor of Afghanistan and Iraq, when he still ha so much left to live for. On Christmas Eve, as Jack prepares to say goodbye to his family, unthinkable tragedy strikes again and Lizzie is killed in a car accident. Just when Jack thought living was far harder than dying, and the children's future looked so bleak, something remarkable happens which gives Jack the valuable second chance he'd only dreamed of. Unexpectedly, the family inherits Lizzie's beautiful childhood home on the oceanfront in South Carolina. During one unforgettable summer Jack and the children struggle to rebuild their lives. They learn to live again – and to love again. And they learn the biggest lesson of all – the importance of family.
The Rain by Virginia Bergin
One minute sixteen-year-old Ruby Morris is having her first proper snog with Caspar McCloud in a hot tub, and the next she's being bundled inside the house, dripping wet, cold and in her underwear. Not cool. As she and Caspar shiver in the kitchen, it starts to rain. They turn on the radio to hear panicked voices – 'It's in the rain …it's in the rain …' That was two weeks ago, and now Ruby is totally alone. People weren't prepared for the rain, got caught out in it, didn't realize that you couldn't drink water from the taps either. Even a drip of rain would infect your blood, and eat you from the inside out. Ruby knows she has to get to London to find her dad, but she just doesn't know where to start …After rescuing all the neighbourhood dogs, Ruby sets off on a journey that will take her the length of the country – surviving in the only way she knows how.
Alice Bliss by Laura Harrington 
'This story of friendship, love, grief and growing up will yank on the heartstrings. And then some' Look Alice Bliss is fifteen. She's smart, funny, and clever. Not afraid to stand up for the things she believes in. She also idolizes her father, and when he leaves home to fight a war she doesn't believe in, Alice is distraught. She and her mother negotiate his absence as best they can — waiting impatiently for his letters, throwing themselves into school and work respectively, bickering intermittently and, in Alice's case, falling for the boy next door — but then they're told that he's missing in action and have to face up to the fact that he may never return. 'A powerful coming-of-age story of love, family and grief' Big Issue 'I put down this book and thought, there is no one like this girl, so fully has Harrington brought a new Alice to life' Sarah Blake, bestselling author of The Postmistress 'Compassionate and intelligent …strong storytelling and a rich emotional core' Jenny Downham, author of Before I Die
The Girl With All The Gifts by M. R. Carey 
NOT EVERY GIFT IS A BLESSING Every morning, Melanie waits in her cell to be collected for class. When they come for her, Sergeant Parks keeps his gun pointing at her while two of his people strap her into the wheelchair. She thinks they don't like her. She jokes that she won't bite. But they don't laugh. Melanie is a very special girl. Emotionally charged and gripping from beginning to end, THE GIRL WITH ALL THE GIFTS is the most powerful and affecting thriller you will read this year. 'Original, thrilling and powerful' – GUARDIAN 'Haunting, heartbreaking' – VOGUE 'A great read that takes hold of you and doesn't let go' – John Ajvide Lindqvist, author of LET THE RIGHT ONE IN 'Scary, tense and fast-paced …but with a heart-warming tenderness' – MARIE CLAIRE
How To Build A Girl by Caitlin Moran 
What do you do in your teenage years when you realise what your parents taught you wasn't enough? You must go out and find books and poetry and pop songs and bad heroes – and build yourself. It's 1990. Johanna Morrigan, 14, has shamed herself so badly on local TV that she decides that there's no point in being Johanna anymore and reinvents herself as Dolly Wilde – fast-talking, hard-drinking Gothic hero and full-time Lady Sex Adventurer! She will save her poverty stricken Bohemian family by becoming a writer – like Jo in Little Women, or the Brontes – but without the dying young bit. By 16, she's smoking cigarettes, getting drunk and working for a music paper. She's writing pornographic letters to rock-stars, having all the kinds of sex with all the kinds of men, and eviscerating bands in reviews of 600 words or less. But what happens when Johanna realises she's built Dolly with a fatal flaw? Is a box full of records, a wall full of posters and a head full of paperbacks, enough to build a girl after all? Imagine The Bell Jar written by Rizzo from Grease, with a soundtrack by My Bloody Valentine and Happy Mondays. As beautiful as it is funny, How To Build a Girl is a brilliant coming-of-age novel in DMs and ripped tights, that captures perfectly the terror and joy of trying to discover exactly who it is you are going to be.
The Art of Being Normal by Lisa Williamson
Two boys. Two secrets. David Piper has always been an outsider. His parents think he's gay. The school bully thinks he's a freak. Only his two best friends know the real truth – David wants to be a girl. On the first day at his new school Leo Denton has one goal – to be invisible. Attracting the attention of the most beautiful girl in year 11 is definitely not part of that plan. When Leo stands up for David in a fight, an unlikely friendship forms. But things are about to get messy. Because at Eden Park School secrets have a funny habit of not staying secret for long …
The Miniaturist by Jessie Burton 
THE NUMBER ONE SUNDAY TIMES BESTSELLER There is nothing hidden that will not be revealed …On an autumn day in 1686, eighteen-year-old Nella Oortman knocks at the door of a grand house in the wealthiest quarter of Amsterdam. She has come from the country to begin a new life as the wife of illustrious merchant trader Johannes Brandt, but instead she is met by his sharp-tongued sister, Marin. Only later does Johannes appear and present her with an extraordinary wedding gift: a cabinet-sized replica of their home. It is to be furnished by an elusive miniaturist, whose tiny creations mirror their real-life counterparts in unexpected ways …Nella is at first mystified by the closed world of the Brandt household, but as she uncovers its secrets she realizes the escalating dangers that await them all. Does the miniaturist hold their fate in her hands? And will she be the key to their salvation or the architect of their downfall? Beautiful, intoxicating and filled with heart-pounding suspense, Jessie Burton's magnificent debut novel The Miniaturist is a story of love and obsession, betrayal and retribution, appearance and truth.
A Man Called Ove by Fredrik Backman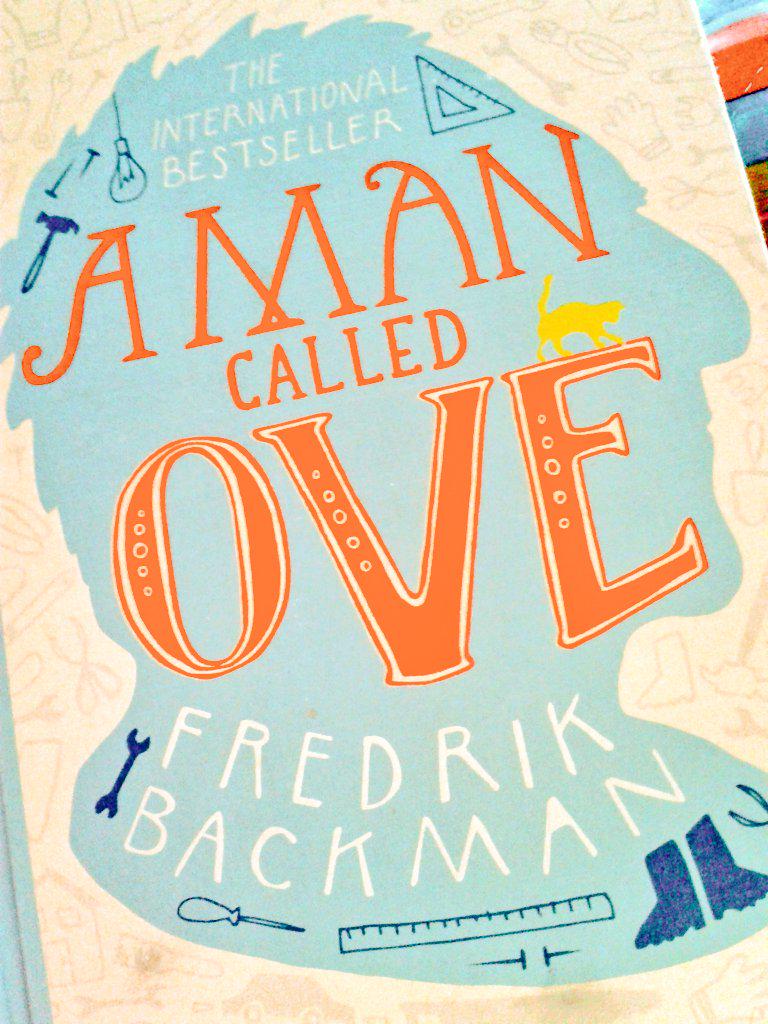 There is something about Ove. At first sight, he is almost certainly the grumpiest man you will ever meet. He thinks himself surrounded by idiots – neighbours who can't reverse a trailer properly, joggers, shop assistants who talk in code, and the perpetrators of the vicious coup d'etat that ousted him as Chairman of the Residents' Association. He will persist in making his daily inspection rounds of the local streets. But isn't it rare, these days, to find such old-fashioned clarity of belief and deed? Such unswerving conviction about what the world should be, and a lifelong dedication to making it just so? In the end, you will see, there is something about Ove that is quite irresistible…The word-of-mouth bestseller causing a sensation across Europe, Fredrik Backman's heartwarming debut is a funny, moving, uplifting tale of love and community that will leave you with a spring in your step – and less ready to judge on first impressions a man you might one day wish to have as your dearest friend.
Don't forget to comment below with your favourite!