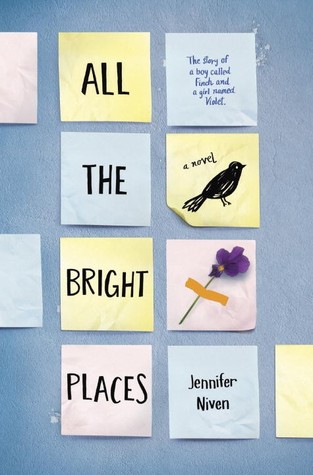 All the Bright Places by Jennifer Niven
Publication Date: January 6th, 2015
Publisher: Knopf
Genre(s): YA, Contemporary, Romance, Fiction
Series Status: Stand alone
Pages: 400
Format and Source: Paperback, Owned
Rating: N A
Synopsis from Goodreads:
The Fault in Our Stars meets Eleanor and Parkin this exhilarating and heart-wrenching love story about a girl who learns to live from a boy who intends to die.

Soon to be a major motion picture starring Elle Fanning!
 
Theodore Finch is fascinated by death, and he constantly thinks of ways he might kill himself. But each time, something good, no matter how small, stops him.

Violet Markey lives for the future, counting the days until graduation, when she can escape her Indiana town and her aching grief in the wake of her sister's recent death.

When Finch and Violet meet on the ledge of the bell tower at school, it's unclear who saves whom. And when they pair up on a project to discover the "natural wonders" of their state, both Finch and Violet make more important discoveries: It's only with Violet that Finch can be himself—a weird, funny, live-out-loud guy who's not such a freak after all. And it's only with Finch that Violet can forget to count away the days and start living them. But as Violet's world grows, Finch's begins to shrink.

This is an intense, gripping novel perfect for fans of Jay Asher, Rainbow Rowell, John Green, Gayle Forman, and Jenny Downham from a talented new voice in YA, Jennifer Niven.
---
I have not given a rating for All the Bright Places by Jennifer Niven because I believe I am too biased to do that. I do not mean in the sense that I know the author, or I have anything to do with the book itself. I am saying this because I am too emotionally invested in this book. Rating this book would be like me reviewing Harry Potter and the Philosopher's Stone: filled with exaggerated brilliance.
Jennifer Niven crafted Finch and Violet so carefully that it was almost like I was a part of them, instead of them being a part of me. It got to the point where I wasn't able to judge if the plot was believable or not due to the characters themselves overshadowing everything.
I also love how the issues of labels and mental illnesses were dealt with in this book. It showed how mental illnesses are often labeled as something that is invisible and not as important. People are more sympathetic to those who suffer a physical, easily seen illness, than to those who suffer something such as depression.
If you do read this book it was take your heart, fill it with emotions that don't belong to you, and then it will crush it until all that is left is hope and the future. So I have to recommend this book, no matter how biased I am.